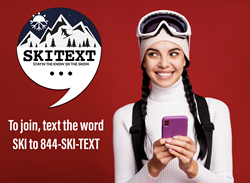 To signup for the free SkiText service, visit www.skitext.com, or text the word SKI to 844-SKI-TEXT (844-754-8398).

PHILADELPHIA (PRWEB)
February 09, 2023
i76 Solutions (http://www.i76solutions.com), a full-service advertising, marketing and technology agency based in Plymouth Meeting, Pennsylvania, a Philadelphia suburb, announced today the launch of SkiText (http://www.skitext.com), a subscriber-based communication platform for ski resorts and related businesses to communicate with their audiences through SMS text messaging. Phase 1 of SkiText's initial rollout will deploy within the eastern US market in partnership with the Pocono Mountains Visitors Bureau (PMVB), including regional Pocono ski resorts such as Shawnee Mountain Ski Area and Ski Big Bear. Other resorts across the United States are also being added to the service.
"We couldn't be more excited to launch the first phase of our SkiText platform to the ski industry. SkiText connects skiers and snowboarders to their favorite ski destinations in a way they never have before. It gives mountain resorts who are subscribed to the platform the opportunity to push useful messaging and promotions to this elite, VIP audience. Dynamic, on-demand, up-to-date information available by text, anytime, anywhere. As we rollout the technology and full-functionality in phases, subscribers will benefit from some of our early-adopter promotions. And we couldn't ask for a better partner to do it with than the Pocono Mountains Visitors Bureau," said Drew Salamone, president of i76 Solutions, the agency that owns and operates the SkiText mobile messaging platform.
SkiText empowers skiers & snowboarders to navigate a successful day on the mountain from the comfort of their mobile phone. The platform, which is free to join as a subscriber, provides on-demand menu options from partner resorts such as lift ticket sales, rental gear, trail conditions & maps, weather updates, dining & lodging options, special events, and more.
"Staying in touch with the mountain resorts is essential for skiers and boarders, so what better way to be connected than through text messaging. It's timely, reliable, and allows for a two way exchange between ski resorts and their audiences around need-to-know items such as lift tickets, gear rentals, mountain conditions, events, and more," said Todd Rodeghiero, VP of Strategy for i76 Solutions.
Chris Barrett, President/CEO of the Pocono Mountains Visitors Bureau said that "SkiText is just another way our ski resorts aim to make the experience on the mountain even better for guests by offering resort-specific information that can assist in planning your trip from the beginning to end."
To signup for the free SkiText service, visit http://www.skitext.com, or text the word SKI to 844-SKI-TEXT (844-754-8398).
For more information on how your resort or mountain can become a SkiText partner, text the word PARTNER to 844-SKI-TEXT (844-754-8398), or send an email to [email protected].
Share article on social media or email: