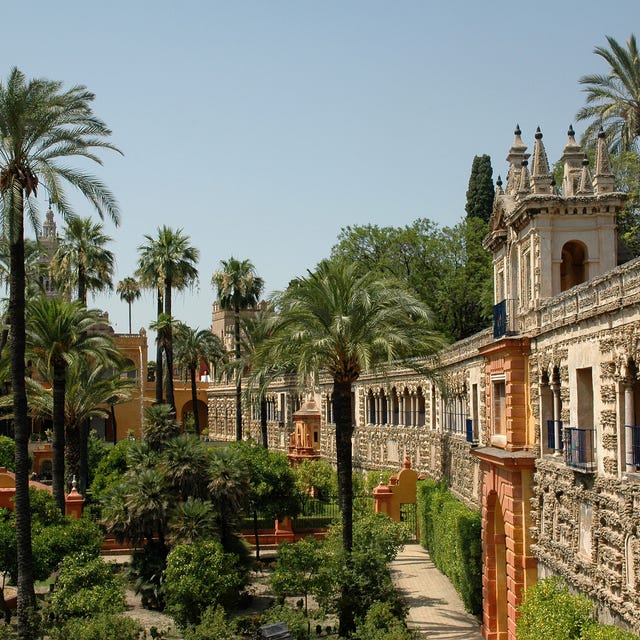 OlenaShkatulo
The start of a new year can be dark and dreary, with abysmal weather. But for those of us who love a good TV binge, it can also bring plenty of opportunity to catch up on shows we've missed, or for film fans, plenty of cold evenings to spend in the cinema being transported to another (perhaps sunnier) world.
As much as we love sinking into the sofa and being whisked away to far-flung destinations through the power of the screen, we're sometimes left with itchy feet, wishing we could visit the locations ourselves.
If you've ever felt inspired to visit a location you've seen in your favourite TV show or film, you're not alone. Set-jetting is a growing trend in travel — two-thirds of global travellers have considered it, and 39 per cent have booked trips to destinations
they've seen in films or streamed shows, according to Expedia's 2023 travel trends report. This makes TV and film second only to advice from friends and family when it comes to getting holiday inspiration this year.
While visiting a TV or film location isn't a new concept, set-jetting is now really taking off and it's no surprise. The increase in binge-watching during the pandemic years gave us endless inspiration to explore travel in a different way when the world opened up again. Film and TV settings are getting more glamorous, too, giving us wanderlust as we watch the drama unfold.
Is there anyone who watched the recent series of White Lotus without dreaming of a visit to beautiful Sicily? The hit series was shot primarily at the Four Seasons' San Domenico Palace in Taormina, showing off the glamour of the Italian hilltop town and putting it high on our travel wish list for 2023.
It's not all about beaches, either. According to Expedia, cosmopolitan cities like New York and Paris are welcoming visitors inspired by the screen, perhaps thanks to the adventures of Emily in Paris and Carrie Bradshaw in the new Sex and the City spinoff.
The UK gets an honourable mention too, with a host of historical dramas increasing interest in our many impressive stately homes and royal residences.
Maybe you already have a set-jetting holiday to a place you've seen on the screen planned, big or small. But if not, we've got some inspiration for you here.
Advertisement – Continue Reading Below
There are some locations around the world which instantly bring to mind iconic moments in TV and film. Gorgeous Lake Como is sure to be one of these for any James Bond fan. In Casino Royale, we see Daniel Craig making his debut as Bond, and the big-screen spy makes two visits to Lake Como's western shore. Early on in the film, we see Bond recuperating at the elegant Villa del Balbianello in Lenno, and later we are once again transported to the lake near the resorts of San Siro and Menaggio.
Casino Royale isn't the only film that has featured Lake Como. You can also spot the glamorous lake in Ocean's 12, and in scenes from the recent series of Succession.
As well as being a star of the screen, Lake Como attracts A-list actors in their downtime, too. George Clooney famously owns a villa on Lake Como, where the cast of Ocean's 12 stayed while shooting the film, according to Julia Roberts.
How to visit: You can visit Lake Como on Good Housekeeping's eight-day tour of Northern Italy in April or September 2023. You'll visit Tremezzo, known for spectacular views, as well as the Villa Carlotta, a historical villa which might remind you of the lakeside villas you've seen on screen.
FIND OUT MORE
Alternatively, try a seven-night stay in Colico, a stunning village on the shore of Lake Como, where you'll be charmed by the crystal clear lake waters and the magnificence of the towering Alps. You'll take a boat trip on the lake and also ride high into the Swiss Alps on the Bernina Railway for cinematic views.
FIND OUT MORE
When it comes to filming locations in Italy, it doesn't get much more iconic than Venice. Again, James Bond fans can retrace the steps of 007 here, with scenes from Casino Royale, Moonraker, and From Russia with Love set in the capital of Italy's Veneto region. And he isn't the only action hero who's navigated the enchanting city. Tom Cruise can be seen leaping between boats on the canals in Mission Impossible 7, which was filmed during the Covid-19 pandemic, allowing Cruise to perform his famous stunts while Venice was empty of tourists.
Fans of '50s cinema might be inspired to visit elegant Venice by the 1955 film Summertime, starring Katherine Hepburn. Hepburn, a secretary from Ohio, embarks on a dream trip to Venice, visiting several locations around the city, including the islands of Murano and Burano in the Venetian Lagoon.
How to visit: Explore Venice with Good Housekeeping on a luxurious eight-day river cruise in April, and you'll also discover the islands of Burano, Mazzorbo and Torcello and the port of Chioggia. Joining you will be one of the world's favourite classical singers, Russell Watson, who'll give and exclusive private concert and host a talk and Q&A.
FIND OUT MORE
If you're a food lover as well as a cinephile, you'll want to know about our eight-day cruise of the Venetian Lagoon with chef Rick Stein. As well as seeing the highlights of Venice and the surrounding area, you'll also learn more about Italian cuisine from Rick, who'll visit the Rialto food market with you and host a live cooking demonstration.
FIND OUT MORE
With its gothic and neoclassical architecture, it's not surprising that director Tim Burton chose Romania as the location for his new Netflix series, Wednesday. It's safe to say the dark comedy, an Addams Family reboot focusing on Wednesday Addams, has taken the world by storm, becoming the second most-streamed show in Netflix's history.
With a second season already announced, fans can look forward to more comedy-horror adventures set against the gothic backdrop of Romania.
A large part of the filming took place in the small mountain town of Bușteni in the Carpathian Mountains. Cantacuzino Castle in Bușteni stars as the exterior of the series' main location, the Nevermore Academy, while the school's interiors were shot at Casa Monteoru in Bucharest.
Bucharest's leafy botanical gardens also feature in the show in scenes set in Nevermore's greenhouses. These spectacular 18-hectare gardens were opened in 1891 and are home to over 10,000 species of plants.
How to visit: Explore Romania on a six-day holiday in March or April 2023. You'll stay overnight in Bucharest's Old Town and have a day to explore the city before heading to Brasov in the Carpathian Mountains. You'll also spend a night at the unique Hotel of Ice by the glacial Balea Lake.
FIND OUT MORE
Chatsworth House, England
Although chasing after your favourite silver screen destinations could take you on an adventure far from home, there are plenty of locations to visit right here on our doorstep.
The UK has an illustrious TV industry, with many shows produced on our isles reaching a global audience and inspiring visitors to the UK.
The vast number of stately homes and royal palaces create the perfect settings for these historical dramas. According to Expedia, more and more travellers are being inspired to visit the UK to see these grand buildings for themselves after having seen them on screen.
One impressive building that's no stranger to the screen is the Chatsworth House in the Peak District, which has appeared in multiple films. Perhaps the most famous use of the stately home is for the 2005 adaptation of Pride & Prejudice starring Keira Knightley, where it featured as Mr Darcy's estate (rumour has it Chatsworth House was Jane Austen's original inspiration for the estate too).
How to visit: If you feel like stepping back in time, you can join a four-day trip to the Peak District, where you'll stay in one of the country's oldest hotels and explore some of the finest country houses, including Chatsworth House, Bolsover Castle, Tissington Hall, Hardwick Hall, and Renishaw Hall.
You'll be joined by TV presenter Paul Martin, who'll give a talk before a visit to Bolsover Antique Centre, offering expert tips on finding treasures for your own home.
FIND OUT MORE
Hampton Court Palace, England
In recent years we've seen a whole host of period dramas take the world by storm, like Downton Abbey and Bridgerton. Fans of period dramas will find plenty of sets to visit in and around London, a city famous for its historic buildings.
One of the grandest is Hampton Court Palace in the London Borough of Richmond, the former home of Henry VIII. This Grade I listed palace is a beautiful blend of Tudor and Baroque architecture with 60 acres of pristine, manicured gardens, including its famous yew hedge maze, the oldest of its kind in the country.
These grand gardens and elegant facades made a perfect backdrop for several scenes in one of Netflix's most-streamed shows, the Regency-era drama, Bridgerton.
Locations Bridgerton fans might recognise at Hampton Court Palace include Fountain Court, Master Carpenter's Court, Clock Court, the King's Staircase, and the Gardens, all of which are open to visitors so that you can follow in the footsteps of your favourite characters.
How to visit: Join a three-day tour of Britain's finest palaces with Queen Elizabeth II's biographer Robert Hardman, and you'll enjoy a fascinating guided tour of Hampton Court. Visits to Windsor Castle, Westminster Abbey, the Tower of London, and the Royal Vaults at St George's are also on the itinerary.
FIND OUT MORE
Cornwall boasts some of the UK's most cinematic landscapes, with rugged cliffs towering above expansive golden beaches. These landscapes provided the moody backdrop to BBC's popular historical drama, Poldark.
While Poldark's drama was often reflected in dark stormy skies above Cornwall's rugged cliffs and roaring seas, in reality, the southern county is blessed with some of the sunniest weather in the UK. Of course, there's always a chance you could get caught out by a storm, but just think of it as a chance for a cosy night in with a good movie. Maybe you'll even find inspiration for your next trip…
Many of the cliffs and beaches near pretty Padstow feature in the show, like the Stepper Point headland, with its stone tower built as a navigation aid for sailors. Peaceful Cornwall has many rural corners which are totally free from the bustle of modern life, making them great canvases for this period drama set between 1781 and 1801.
How to visit: Visit Cornwall in the spring, and you'll more than likely avoid the dramatic weather. Springtime in Cornwall is glorious and arrives about a month earlier than in the rest of the UK. Our special six-day trip will take you to some of the county's finest gardens in the company of expert Helen Yemm. You'll stay in Padstow, not far from where some of Poldark's clifftop scenes were shot.
FIND OUT MORE
With its pristine, crystal clear waters and cerulean blue lagoons, it's no wonder the Italian island of Sardinia wooed the location scouts for the live-action remake of The Little Mermaid.
Set to be released in May, the much-anticipated remake is sure to be a nostalgia hit for lovers of the 1989 animation, with the original songs reimagined by singer and actress Halle Bailey and four new songs to look forward to as well.
According to reports, scenes from the new film were filmed in the little seaside village of Santa Teresa di Gallura, on Sardinia's northern coast. Here you'll find quintessentially Sardinian beaches, with white sands merging with blazing blue waters under rugged headlands.
Sardinia is a scenic holiday location for those who love life under the sea, with calm waters perfect for snorkelling. You're likely to see colourful schools of fish swimming playfully among seaweed and corals — perhaps you'll even spot a Sebastian or Flounder lookalike.
How to visit: Join a glamorous Mediterranean cruise with TV's James Martin, and you'll get to see the dazzling blue waters of Sardinia for yourself, with a day in the northwestern city of Alghero. Throughout the cruise, you'll dock in some of the Mediterranean's most stylish ports and will pick up plenty of cooking skills from James as you sail.
FIND OUT MORE
The Orient Express is possibly the most famous train in the world. It inspired one of Agatha Christie's most popular novels, Murder on the Orient Express, which has been adapted for film and TV multiple times, most recently in 2017 with a star-studded cast including Judi Dench, Kenneth Branagh and Penélope Cruz.
While filming on the train itself was ruled too complicated, the production crew was provided with original drawings of the carriages, allowing them to build a suitably glamorous reconstruction on a sound stage in Surrey.
The good news for Agatha Christie fans, and for fans of extremely luxurious train travel, is that you can still travel the original route of the train on the Venice Simplon-Orient-Express. The meticulously restored 1920s train follows the timeless journey from Istanbul to Paris, taking you through Bulgaria, Romania, Hungary, Austria, and Germany on the way.
How to visit: Book an unforgettable seven-day adventure with the Venice Simplon-Orient-Express from Istanbul to Paris. You'll spend three nights in a Historic Cabin on the impossibly glamorous train, spending other nights in luxury accommodation along the route.
There are exciting excursions included so you can discover the cities you'll be passing through, with tours in Bucharest and Budapest, a Danube cruise, and a visit to Peles Castle in Romania on the agenda.
FIND OUT MORE
Iceland is easily reached from the UK, yet has some truly otherworldly landscapes, with geothermal springs, towering mountains, and magnificent fjords where humpback whales breach in icy waters.
Film directors have long made use of these ethereal landscapes as the setting for fantasy and sci-fi movies. Game of Thrones fans will recognise the area around Iceland's Lake Myvatn as the shooting location for several scenes north of the wall. The show's icy North is perfectly captured in Iceland's barren yet beautiful highlands, and Dimmuborgir, a region of twisted rock formations and lava fields, also makes an appearance.
Iceland's landscapes also star in The Empire Strikes Back, with scenes filmed at the spectacular Vatnajokull National Park. Star Wars fans will also want to make a pit stop at the Skaftafell, which makes an appearance in 2017's The Last Jedi.

How to visit: Try a unique two-week cruise of the majestic fjords of Iceland with weather presenter Carol Kirkwood. It's a great way to discover the dramatic landscapes and wildlife which make Iceland a favourite of sci-fi and fantasy directors.
You'll cruise along Iceland's longest fjord, Eyjafjörður, and along the Borgarfjörður Eystri, home to a population of elves — according to Icelandic folklore, at least.
FIND OUT MORE
Another location you'll want to add to your bucket list if you're a fan of either Star Wars or Game of Thrones is Seville in Spain's sun-drenched Andalucía.
The city has a fascinating blend of cultural influences apparent in its architecture, from the intricate facades of the Alcázar influenced by Islamic ornamentation, to the landmark Plaza de España with its spectacular blend of Baroque, Renaissance and Moorish architecture.
The exceptional architecture of Seville has not gone unnoticed by film directors and location scouts, who've used the historic buildings here as sets for many blockbusters. The Plaza de España features in Star Wars: Episode II – Attack of the Clones as part of the ornate Theed Palace on the Planet Naboo.
You'll also spot Seville in seasons five and six of Game of Thrones, where the Alcázar is transformed into the Water Gardens of Dorne.
How to visit: Join garden designer Nick Bailey for a six-day exploration of Andalucía's magnificent Moorish architecture and elegant gardens in September 2023. You'll visit the gardens of the Royal Palaces of the Alcázar in Seville and see the city's imposing gothic cathedral.
FIND OUT MORE
Alternatively, join a six-day discovery of Andalucía in May, June or October. You'll have time to explore Seville at your own pace, visit Plaza de España and the Alcázar, and enjoy an enthralling flamenco show.
FIND OUT MORE
Sci-fi and fantasy directors have long been enamoured with the desert landscapes and exceptional archaeological sites of Jordan.
Perhaps most famously, many scenes from Indiana Jones and the Last Crusade were filmed in Petra, a fascinating prehistoric city carved into the red and pink sandstone cliff faces of southern Jordan.
The city is an archaeological jewel and a UNESCO World Heritage Site. It's the lost city of the biblical Nabataean, and here you'll find an impressive series of tombs and dwellings hidden behind ornate facades carved directly into the rock.
At the climax of The Last Crusade, Harrison Ford and Sean Connery venture deep inside the labyrinths of Al-Khazneh, the Treasury – one of Petra's most magnificent carved buildings – on their famous quest to unearth the Holy Grail. In reality, you can only see the Treasury from the outside, with the inside being an empty chamber once used as a tomb.
Nevertheless, the façade of this elaborate temple is incredible to see, a true testament to the creative engineering genius of the Nabataeans.
How to visit: Experience a very special trip to Jordan in November 2023, which will take you to Petra, where you'll see the ancient city's astonishing monuments by candlelight.
This women-only adventure includes a visit the Wadi Rum Desert, whose mesmerising terrains have been used as the setting for many movies, including scenes from the blockbuster Dune.
FIND OUT MORE
Bernese Oberland, Switzerland
Another one for the Bond fans (well, jet-setting is part of his job description, after all…) You can follow in the footsteps of George Lazenby's short-lived 007 incarnations up into the snowy Swiss Alps to the Schilthorn summit. This pristine mountain peak is home to the Piz Gloria revolving restaurant, used as a set for the fictional mountain-top hideout of Bond villain Ernst Stavro Blofeld in On Her Majesty's Secret Service.
In the film, James Bond ultimately destroys the secret lair, but in reality, the Bond production team actually helped to finance the completion of the unique revolving restaurant found there today. The restaurant offers outstanding panoramic views over the Bernese Oberland and can be reached by a 32-minute aerial cableway with sweeping alpine vistas all the way up.
As impressive as this rotating restaurant is, there's more to explore in the Bernese Oberland. While there, you can traverse the mountains by railways, funiculars, and cableways to explore the phenomenal landscape of snowy peaks and extraordinary turquoise lakes.

How to visit: Try a trip to the Swiss Alps in October 2023, which includes a visit to Piz Gloria, complete with a James Bond-themed brunch. When you're not retracing the footsteps of George Lazenby, you'll be exploring the stunning Alps by rail, including a trip to the highest railway station in Europe and a nostalgic ride on a steam train.
FIND OUT MORE
Alternatively, join a four-night stay in lovely Interlaken, which includes visits to Lucerne and Bern, a cruise across Lake Thun, and a day on the delightful Glacier Express, enjoying a leisurely three-course lunch while you climb slowly and steadily higher up into the snow-blanketed Alps.
FIND OUT MORE
Another part of the UK countryside with star quality is the jaw-droppingly beautiful Scottish Highlands. This is the land of towering mountains, tranquil glens, mysterious lochs, ancient woodland, and enchanting harbour towns.
The landscapes here are dotted with fairytale castles and dramatic ruins of once-grand fortresses. It's easy to see why this area of Scotland has inspired so many great works of fiction. One of the most successful children's film franchises of all time, Harry Potter, borrows many backdrops from the stunning Scottish Highlands to create the fantasy world that so many children (and adults) know and love.
Those who wished to be whisked away to Hogwarts on the Hogwarts Express can try the next best thing on a visit to the Highlands, with a ride on the Jacobite steam train, whose carriages were used as a set for The Philosopher's Stone.

How to visit: Hop aboard the magical Jacobite during a four-day Highlands adventure in June or July 2023. The route runs from the foothills of Ben Nevis through rugged mountains, past sea and inland lochs and onto the shores of the Atlantic at Mallaig. You'll also steam across the breathtaking Glenfinnan Viaduct, just as the Hogwarts Express does in the Harry Potter films.
FIND OUT MORE
Some TV shows are inseparable from their locations. Channel 5's All Creatures Great and Small, based on the tales of Yorkshire vet James Herriot, is one of them. The idyllic Yorkshire Dales are not just the backdrop to these stories — the landscapes of moors, valleys, hills and cobble-stone villages are real scene-stealers.
The historic market town of Grassington stands in for the fictional Darrowby, the main village in the series. With its cobbled lanes, traditional shops, and pretty village square, Grassington easily passes for 1930s England. If you pay a visit, you'll find modern conveniences, but it can almost feel like stepping back in time with its stone cottages and peaceful pace of life. It's certainly a stark contrast to modern city life.
Much of the drama of the series takes place in the surrounding countryside, which is easy for visitors to explore by foot or by rail. Of course, these landscapes inspired other works of fiction too. This is Brontë country, and walks over the dramatic moors will transport you to the world of Wuthering Heights.
How to visit: Spend five days exploring the Yorkshire Dales by foot and by rail in April or October 2023. You'll visit the home of the Brontë sisters, ride on classic steam trains, traverse the Pennine Bridleway on foot and stay in the charming market town of Skipton.
FIND OUT MORE
Looking for inspiration for your next holiday? Grab a cuppa and browse our brochure packed with unique escapes.
DOWNLOAD BROCHURE
Advertisement – Continue Reading Below