It's official — the ski season is a go! In winter, there's nothing quite like zooming down the slopes against a snow-capped mountainous backdrop — and many parts of the US offer that postcard picture and more. The United States offers excellent staycation destinations, and in winter, many snow enthusiasts across the country flock to those at high elevations with superb ski slopes. Whether seeking a family-friendly skiing trip, a getaway in the mountains with a group of friends, a romantic couple's snowy escapade, or a solo slopes adventure, the US has the ideal ski spot to suit demand. However, with so many in existence across the nation, how do travelers even begin to choose the ultimate winter resort?
A seemingly ski-loving team at Holidu — a booking portal for holiday rentals — decided to tackle that question to help snow bunnies pick the perfect skiing vacation. Using data based on Google search volume pertaining to keywords and searched terms, Holidu undertook a study to answer once and for all which ski resorts in the US are the most popular this year — according to Google searches over the last year. In their analysis, the more search hits any given ski destination received, the more popular it was deemed. Plus, for an extra helping hand to assist travelers in selecting their dream (and affordable) ski haven, Holidu even threw in the average price tags for each resort's daily ski pass — win!
11/11

How Did Holidu Determine The Most Popular Ski Resorts?

Holidu surveyed 100 ski resorts in the United States, extracting the average global Google search volume for each over the past year. Resort popularity was based on how high its search volume was; the higher the number of searches for any given resort, the more popular it is. As a bonus, Holidu also included average prices for each resort's daily ski passes, which were taken from the ski resorts' official websites — some totals were based on the current ski season, whereas others were calculated from last year's. Each price shown is the calculated average of the resort's daily ski pass price, taking into account the low and high seasons.
Summary Of Holidu's Findings
Colorado's Copper Mountain is
the
most popular ski resort in 2022
Seven US states are home to ski resorts in the top 10 most popular
Colorado and California boast the highest quantities of the most popular resorts, with more than one in-demand resort in each state
Brian Head in Utah is one of the
most affordable ski destinations in North America
. It offers the most value for money, with the lowest average ski pass price out of the top 50 most popular ski resorts
Ready for the full results? From North America's beginner-friendly ski resorts to the snowy hubs attracting skilled and seasoned slope-sliders and snowboarders, the following list is an avalanche of the top ten ski resorts that adventurists have their goggles pointed toward this winter.
10/11

Copper Mountain, Colorado
Average Monthly Google Search Volume:
86,000

Average Daily Ski Pass Price:
$154
Copper Mountain in Colorado takes home first place as the most popular US ski resort this year — not surprising, since many of Colorado's best ski resorts near Denver are as well-equipped, beautiful, and fun as they are accessible.
Copper Mountain appears to reign supreme, though, with over 10,000 searches more per month than the resort that came in second place.
With world-class skiing and snowboarding terrain to suit all skill levels, excellent facilities, charming nearby towns and villages with family-friendly amenities, attractions, and accommodations, it's no wonder Copper Mountain took home the coveted number-one spot.
Plus, the 2022/2023 winter season is Copper Mountain's 50th anniversary — winning the most popular ski resort is a fine way to celebrate five decades running!
Related: Family Friendly Skiing: These Winter Resorts Are Perfect For Anyone Traveling With Kids
9/11

Crystal Mountain, Washington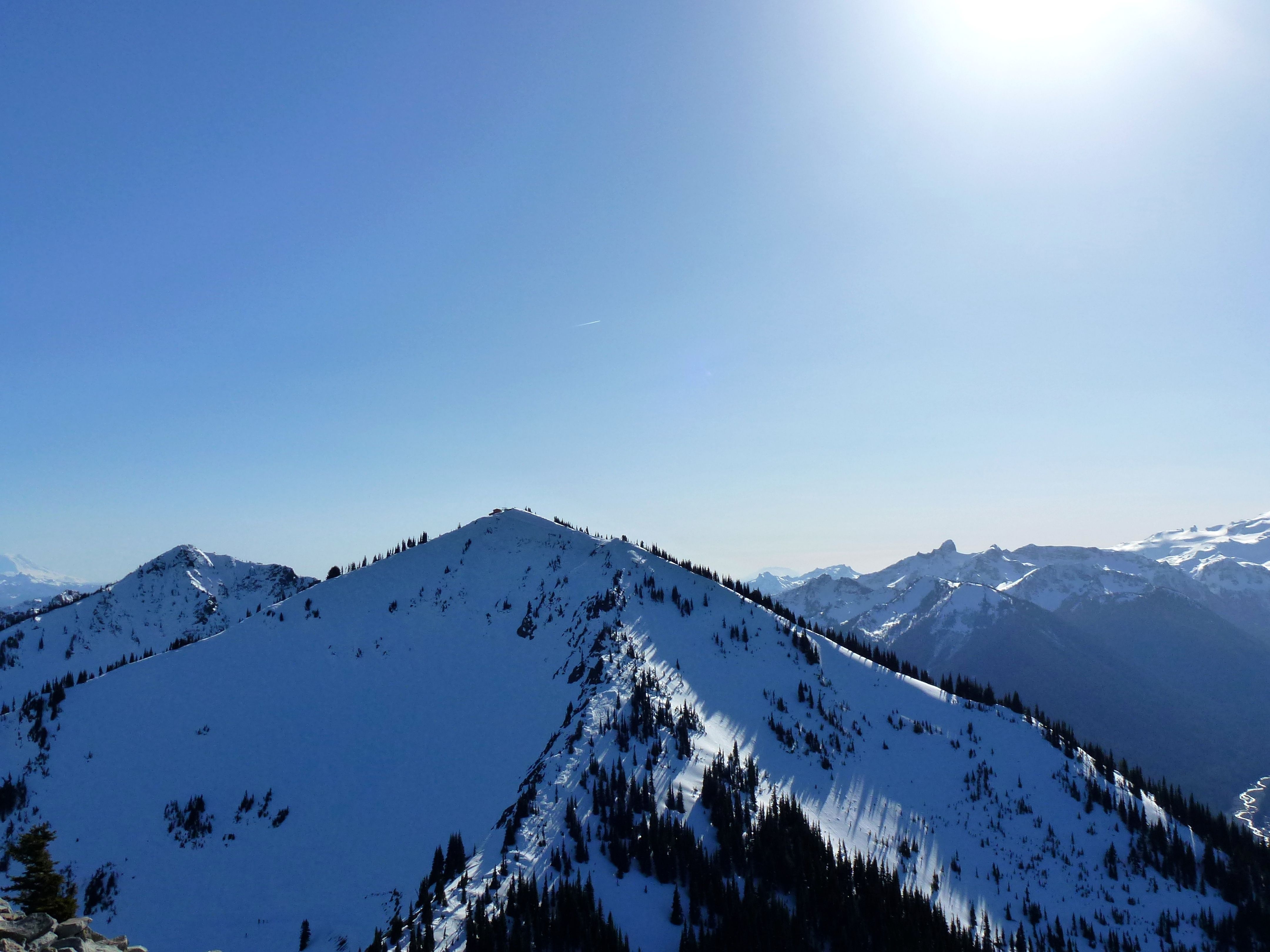 Average Monthly Google Search Volume:
76,000

Average Daily Ski Pass Price:
$65
Crystal Mountain is conveniently located just two hours from Seattle and offers no lack of parking to accommodate its visitors driving in from the city for a much-needed ski break.
Indeed, this spot is the largest ski resort in Washington, covering over 2,600 acres of terrain dotted with 11 lifts and 80 named runs.
Snowfall is quite generous, too; Crystal Mountain gets over 400 inches annually! What makes this resort even more spectacular is its views; on a clear day, skiers get to soak up sensational views of the surrounding Cascade Range and Mt. Rainier.
8/11

Palisades Tahoe, California
Average Monthly Google Search Volume:
68,000

Average Daily Ski Pass Price:
$157
It's no secret that Palisades Tahoe is one of the best ski resorts in California, earning it a nice spot on the list as the third most popular ski resort this year. Situated in Olympic Valley and northwest of Tahoe City in the Sierra Nevada range, this wonderfully wintertime ski hub offers its guests 34 lifts and a sizable 6,000 acres of skiable mountain!
Although Palisades Tahoe is consistently cited as one of the best ski resorts in California, its popularity and fame soak its status to even greater heights; many ski enthusiasts claim it's among the very best of North America's top resorts.
In addition, this contender counts itself among the most advanced ski destinations, ranking in the top 10% of most-difficult ski resorts in North America — all thanks to its 59% of expert-level rated trails. However, those with less experience and even guests clicking into their skis for the first time can still enjoy a blast at this resort; its massive size incorporates plenty of terrain for beginners and intermediate slope sliders.
7/11

Breckenridge Ski Resort, Colorado
Average Monthly Google Search Volume:
67,000

Average Daily Ski Pass Price:
$197
Colorado delivers yet another epic ski resort, this time ranking in fourth place with an average monthly search volume of 67,000.
Located at the base of the Rocky Mountains' Tenmile Range, the famous Breckenridge consists of 3,000 acres of terrain, five peaks, and three base areas, creating a vast playground for skiers of all experience levels.
While the skiing at this resort is phenomenal and indeed world-famous, one of the best reasons to visit Breckenridge is the quaint, scenic mountain town to which it belongs.
Breckenridge's skiing and wintry culture within the town is part of the draw, beckoning travelers worldwide to savor the luxury ski resort life for which this picture-perfect spot on the map is famed.
Related: How Vermont's Ski Resorts Differ From Those In Colorado (& Which Are Better)
6/11

Hunter Mountain, New York
Average Monthly Google Search Volume:
61,000

Average Daily Ski Pass Price:
$84
Hunter Mountain in New York earned fifth place on the list of the most popular ski resorts this year. Belonging to Hunter, Greene County, this fantastic ski retreat is only three hours northwest of New York City, making it a great option for city dwellers seeking an easily accessible winter break.
Because Hunter is a subsidiary of Colorado's Vail Resorts — a company owning a few of the most popular ski resorts on this list — it goes without saying that this one is going to be real cool.
Not only does this adventurous resort's terrain extend across three mountains, but its state-of-the-art snowmaking that covers all its trails has crowned it the celebrated title of "the snowmaking capital of the world."
Plus, thanks to Hunter's even distribution of beginner, intermediate, and expert ski slopes and trails, skiers and snowboarders from newbie level to advanced can have a blast.
5/11

Big Sky Resort, Montana
Average Monthly Google Search Volume:
46,000

Average Daily Ski Pass Price:
$170
Over in Madison County, Montana, Big Sky Resort awaits — one of the top ski resorts in Montana and, in fact, the largest ski resorts in the US in terms of acreage. Its snow is just as impressive as its size; the resort records over 400 inches of snow every year, creating plenty of powdery slopes.
Big Sky's big gift to its guests is the quality of snow and slopes; however, it also prides itself on being an enchanting mountain village that maintains its magical feel year-round, which makes it a popular vacation destination, no matter the season.
The cherry on top? Big Sky's scenic adventures, plentiful accommodation, and dining options to suit all tastes, of course!
Related: Fill Your Mug In Montana At One Of Big Sky Country's Best Breweries
4/11

Vail Ski Resort, Colorado
Average Monthly Google Search Volume:
45,000

Average Daily Ski Pass Price:
$211
Another Colorado ski resort? Absolutely! Vail Ski Resort in Eagle County, Colorado, offers yet more epic skiing, thanks to its location at the base of Vail Mountain within White River National Forest.
To add, it's also the third-largest single-mountain ski resort in the US, boasting over 5,200 acres of skiable terrain. Aside from the world-class skiing available at this resort, guests also have their pick of abundant shops, accommodations, and restaurants.
It's also one of the country's lively, sociable party ski resorts!
3/11

Heavenly Mountain Resort, California
Average Monthly Google Search Volume:
45,000

Average Daily Ski Pass Price:
$171
Heavenly Mountain Resort in California comes in joint seventh place. As the largest ski resort in the Golden State, Heavenly spans across the California-Nevada border, enticing snow sports lovers to sample over 4,800 acres of skiing terrain.
With majestic views of Lake Tahoe as its dramatic background image, the only thing that could make this resort any more impressive is this: it's been running since 1955!
Related: Mammoth Mountain: Why This Ski Resort Is Great For Beginners & Expert Skiers
2/11

Snowbird, Utah
Average Monthly Google Search Volume:
44,000

Average Daily Ski Pass Price:
$151
Snowbird in Utah's 44,000 average searches per month over the last year earns in not-too-bad ninth place on the list. Located in the Wasatch Range of the Rocky Mountains near Salt Lake City, Snowbird offers diversity in its winter activity roster, perfect for the entire family.
With classic skiing and snowboarding to snowmobiling and snowshoeing, Snowbird is the place to be this winter if vacationists want to try their hands and feet at alternative snowy opportunities, too.
Related: 10 Ski Slopes That Will Have You Skipping The Long Ski Lines This Season
1/11

Mount Snow, Vermont
Average Monthly Google Search Volume:
44,000

Average Daily Ski Pass Price:
$113
With a name like Mount Snow, it's no wonder this incredible ski destination earned a place on the list. Situated in the Green Mountains, this southern Vermont ski resort received an average of 44,000 searches per month in the last year — a grand total earning joint place as the ninth most popular ski resort this season.
Skiing is of course formidable here, but the resort's family-friendly vibe and jam-packed activity menu for all visitors — regardless of ability — is what truly makes it stand out.
Moreover, Mount Snow is said to boast the best terrain park in the east — perfect for skiers and snowboarders who want to show off their tricks and stunts!