Real estate investment and hospitality management firm Highgate has agreed to acquire luxury hotel group Viceroy Hotels & Resorts for an undisclosed sum.
According to a Highgate spokesperson, the deal is inclusive of the Viceroy brand and its management arm. 
The transaction is expected to close in early 2023.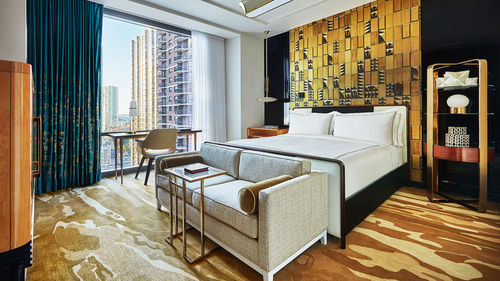 A guestroom at the Viceroy Chicago. Photo Credit: Viceroy Hotels & Resorts
Los Angeles-based Viceroy Hotels & Resorts made its debut in 2000, with the opening of the Viceroy Santa Monica in California. 
Since then, the company has expanded to a total of 11 properties spread across the U.S., Mexico, St. Lucia and Serbia. Two additional Viceroy hotels are on track to debut in Portugal and Panama.
In a statement, Highgate principal Richard Russo said the firm plans to leverage its real estate and development prowess, as well as other "benefits of Highgate's scale," to "cement Viceroy as one of the most noteworthy luxury lifestyle hotel brands in the industry."
Russo added that Highgate plans to make several expansion-related announcements in the coming months, with new Viceroy projects in both urban and resort destinations set to join the brand's pipeline. 
Highgate's portfolio currently includes more than 500 owned and/or managed hotels throughout the U.S., Europe, Latin America and the Caribbean.