Fashion-inspired hotels are having a moment.
The last several months have seen a handful of fashion-forward brands entering the hotel space, from island-inspired clothing brand Tommy Bahama, which is on track to debut a Southern California resort later this year, to fashion and beauty magazine Elle, which recently opened its inaugural property in Paris.
Likewise, fashion label Louis Vuitton — part of luxury goods powerhouse LVMH — outlined plans to jump into hospitality, with the company's CEO, Michael Burke, recently announcing that Louis Vuitton's Paris headquarters will be transformed into a hotel and retail complex in the coming years.
Overlap between the fashion and hospitality spheres is far from uncharted territory. Other high-profile fashion brands have similarly expanded into hotels over the years, including luxury labels like Missoni and Armani, which launched their first properties in 2009 and 2010, respectively. 
Those forays, however, have been limited — spawning just a couple properties — and in Missoni's case, unsuccessful. There are still only two Armani hotels, one in Dubai and the other in Milan, and the Missoni venture was short-lived, with the hotel endeavor — which had locations in Edinburgh, Scotland, and in Kuwait — fizzling out by 2014.
This year's crop of entrants, however, seems particularly well-positioned to not only succeed but potentially scale.
Though details on Louis Vuitton's hotel project have yet to be announced, LVMH is hardly a newcomer to high-end hospitality. The conglomerate's holdings include luxury hotel brand Cheval Blanc; high-end travel company Belmond, which has more than 30 hotels in its stable; and luxury jewelry and accessories label Bulgari, which has carved out a solid foothold with its Bulgari Hotels & Resorts offshoot, launched via a partnership with Marriott International in 2003.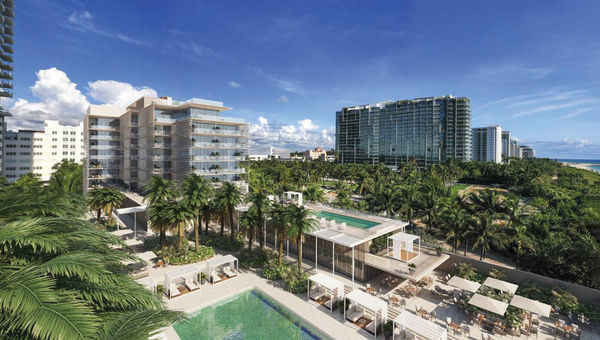 A rendering of the Bulgari Hotel Miami Beach, which is on track to open in 2025. Photo Credit: Courtesy of Bulgari Group
Bulgari Hotels & Resorts, in fact, may be the fashion world's most successful hotel venture to date. The brand currently has outposts in Milan, London, Dubai, Bali, Beijing, Shanghai and Paris, with new locations in Rome, Tokyo, Miami, the Maldives and Los Angeles in the pipeline.
According to Bulgari Group executive vice president Silvio Ursini, part of the hotel concept's staying power can be attributed to the fact that the Bulgari brand is already synonymous with beauty, exclusivity and glamour.
"As a luxury brand, we know how to pamper and build a true relationship with our customers," said Ursini, adding that business across the portfolio has remained robust in recent years, thanks to increased demand for "ultraluxe experiences."
As an added bonus, the Bulgari properties serve as effective showrooms for the brand's jewelry and accessories. All Bulgari Hotels & Resorts have a few Bulgari pieces on display in the lobby, while select locations — including the Bulgari hotels in Paris, Dubai and Shanghai — also house a retail boutique.
"A hotel guest dedicates at least one or two days, if not more, to [their] stay and has more time to observe and choose [a piece]," Ursini said.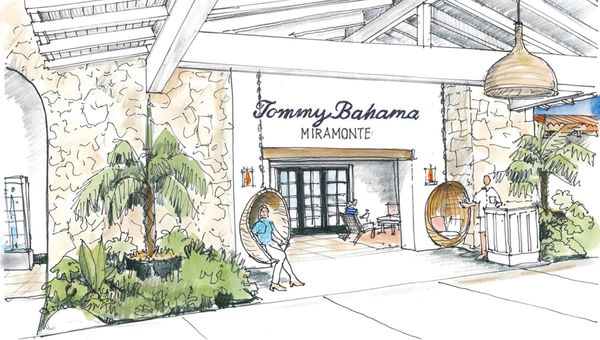 A rendering of the entrance of the Tommy Bahama Miramonte Resort & Spa in Indian Wells, Calif. Photo Credit: Courtesy of Miramonte Resort & Spa
Touches of Tommy Bahama
Tommy Bahama may not play at the same ultraluxe price point as Bulgari, but the clothing and lifestyle brand will also skew upmarket with its Tommy Bahama Miramonte Resort & Spa in Indian Wells, Calif.
The resort launch builds on the success of the brand's already-booming Tommy Bahama Restaurants & Marlin Bars arm, with 21 locations across the U.S.
"One thing we're really focused on is not being 'themey,'" said Tommy Bahama CEO Doug Wood. "Whether people know us for our beach chairs, or think they know us because their dad wore a loud Hawaiian shirt, we want them to see us with a whole new lens."
That's not to say elements of the core brand will be entirely absent. The resort will integrate "a little bit of Tommy Bahama" throughout its decor, and its 215 guestrooms will be outfitted with pieces from the Tommy Bahama furniture line. 
While there will be an on-site retail component, it won't be a traditional Tommy Bahama store. Instead, the upscale shop will stock both Tommy Bahama-branded items and a curated selection of local products.
According to Wood, it's part of an effort to avoid making guests feel like the brand "is trying to sell you something the entire time you're there."
"That detracts from the experience," Wood added. "Yes, I want to feel like there's touches of the brand. But I don't want to feel like I'm taking a bath in it. We want this to be a relaxing resort experience that has a spa, a great pool and great food and drinks but isn't screaming 'Tommy Bahama.'"
Elle's debut Maison Elle hotel in Paris, which began welcoming guests last month, has similarly sought to strike a balance between showcasing its namesake periodical and encompassing a broader lifestyle hospitality experience.
When it comes to highlighting the fashion mag, the 25-room, boutique property has adorned its walls with artwork from Elle magazine's archives. Other fashion-oriented elements are more subtle, however, with the hotel's interior design agency, Laurent & Laurence, drawing inspiration from legendary Parisian designers like Coco Chanel and Jean-Paul Gaultier by way of textiles and a blending of feminine and masculine aesthetics.
On the expansion front, however, Maison Elle is likely to take some cues from the versatility of the Elle brand, which publishes 45 editions globally.
"Each edition has its own signature style, based on the local people and design," said Laurent & Laurence co-founder Laurent Bardet. "So, as it grows the hotel brand can keep the same French [influence], but we can change the way it's expressed." 
From our archives