Hoping to galavant through Utah this winter? Here are 10 destinations to consider while mapping out your road trip.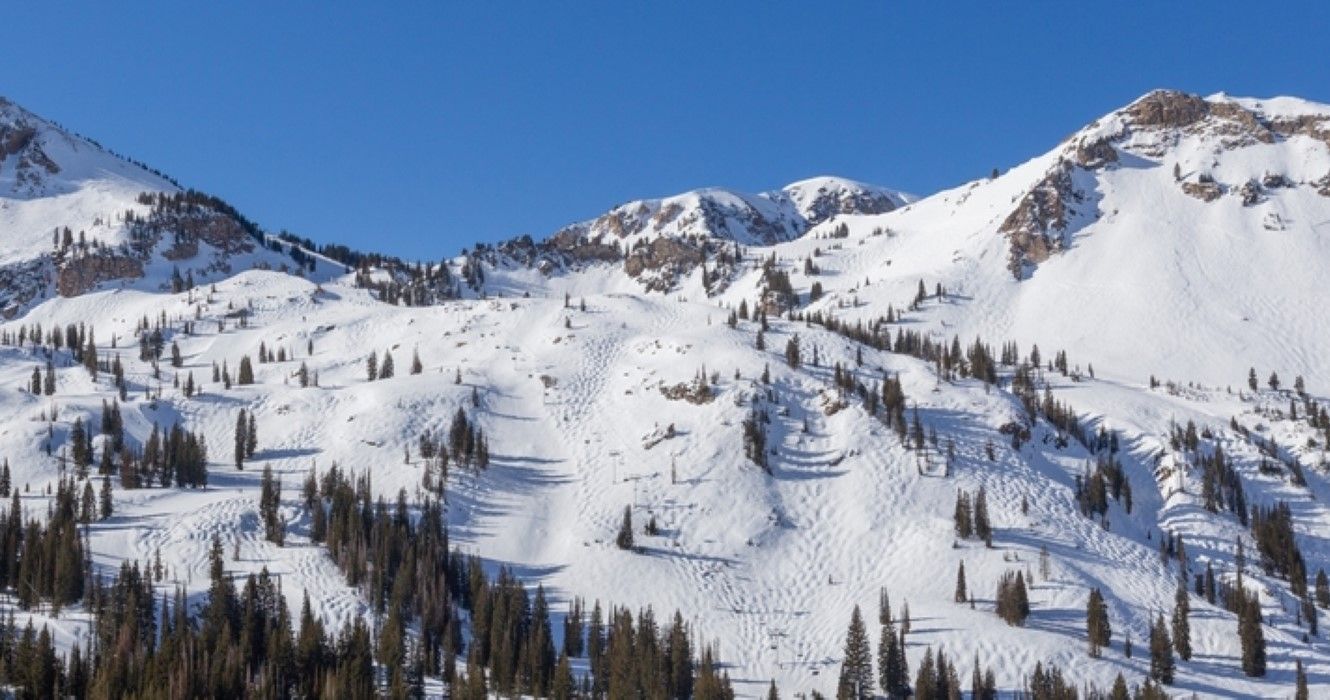 Little Cottonwood Canyon in Alta, Utah, a destination for alpine skiing
While Utah is known for its amazing scenery and bucket-list-worthy national parks, road-tripping through the state is definitely still worth it during the colder winter months. From amazing ski resorts to unique museums, there are plenty of destinations to include on your winter travels through the state. Here are ten stops to consider as you plan your trip!
10
Nordic Valley Ski Resort
Nordic Valley Ski Resort makes for a great Utah winter road trip destination. The resort hosts 900 acres in the Wasatch Mountains and offers an array of events each season, from live music to discount tickets. Be sure to check out their schedule while planning your visit.
Related: These Are The 10 Most Budget-Friendly Ski Resorts In The Country
9
Park City, Utah (Sundance Film Festival)
If traveling through Utah in January, it is definitely worth visiting Park City, Utah, during the Sundance Film Festival. You just might cross paths with a celebrity or be moved by an inspiring piece of cinema. Either way, you will definitely be able to drink some distilled whiskey and take in some snowy scenery.
Even with the crowds that Sundance draws, Park City can get cold, so don't forget to pack your warm winter clothes for this trip!
8
Hot Springs
Fifth Water hot springs in Utah
Visiting a hot spring is sure to be summery, even on the most frigid winter day. Utah is full of these unique and naturally forming pools, so just find one near you and get ready to be adventurous. If you're flexible with location, the Fifth Water Hot Springs is highly recommended.
Related: Here's What Makes Travertine Hot Springs The Ultimate Cozy Destination
7
Little Cottonwood Canyon
Located a little outside Salt Lake City, Cottonwood Canyon is a quintessential skiing destination. With plenty of lodging options, this ski resort is a perfect winter weekend destination for the outdoorsy type.
Related: This Is What Skiers Should Know Before Planning A Trip To Little Cottonwood Canyon
6
Stansbury Polar Plunge
If you're the very outdoorsy type, a Polar Plunge might be for you. Consider road-tripping to Stansbury to participate in their community of annual plungers and jump into some of the coldest water you can imagine. Not only is a Polar Bear Plunge a once-in-a-lifetime experience, but it has been said to have excellent health benefits. After your plunge, explore Stansbury Park and grab a bite at Virg's Diner.
Related: Best Of Utah: These Small Towns Should Be On Your Bucket List
5
Bear Ridge Adventures
If you thought Alaska was the only state for dog sledding, you were wrong. Head out to Bear Ridge Adventures for a unique dog-sledding experience while discovering what Utah has to offer in the cold winter months. Meet some adorable and hardworking huskies while taking in the views.
Bear Ridge Adventures recommends booking a tour at least one month in advance!
One hour, two hours, and half-day tour options are available.
4
Natural History Museum Of Utah
While Utah might have some of the most beautiful winter towns in the U.S., it is also home to some incredible natural history. Visit the Natural History Museum of Utah to learn about the place of humans in the natural world. Admission tickets range from free to $19.95, depending on age, memberships, and other identifying factors.
The museum is open until 9 P.M. on Wednesdays if you're hoping to go later in the evening.
3
Solitude Mountain Resort
Located near Salt Lake City, Solitude Mountain Resort is an ideal place to snowshoe and ski on a weekend getaway this winter. With many lodging options, from townhomes to inns, the resort offers something for everyone. Check out one of the nearby options for dining after a day on the slopes!
Related: Wondering Where To Stay When Skiing In Utah This Winter? Consider The Deer Valley Resort
2
Utah Olympic Park
If visiting Utah Olympic Park during the winter, be sure to take advantage of the bobsledding and Alf Englen Ski Museum, both of which pay tribute to the winter Olympic sporting events. Stopping for a few days on your road trip through Utah will help you make the most of the park and see all it has to offer.
While the park has a lot to offer in the winter, be sure to keep an eye on weather conditions before heading out for your trip!
Related: 8 Best Hikes And Trails In Olympic National Park
1
Deer Valley Resort
deer valley resort in utah
Deer Valley Resort is a more expensive ski resort and was a venue during the 2002 Winter Olympics. If stopping for a few nights, the lodging and dining are to exceptional standards. While not in everyone's price range, Deer Valley Resort is sure to enrich the winters of those who choose to splurge on it.