Beautiful beach resorts, gorgeous islands, breezy mountains, and historic cities illustrate the perfect honeymoon spent at these Philippines resorts.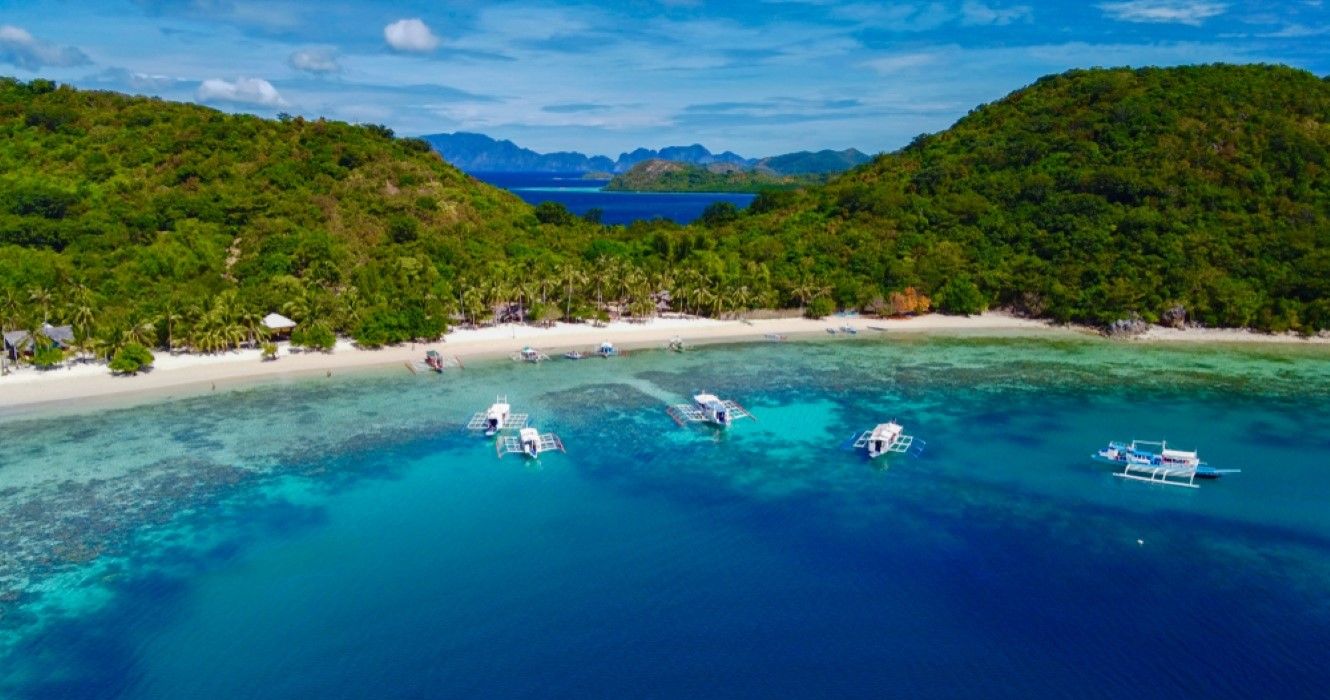 Malcapuya Island in Coron, Philippines
Home to beautiful beach resorts, gorgeous islands, breezy mountains, delicious food, and historic cities, there are plenty of romantic destinations to visit in the Philippines ideal for a perfect honeymoon. Whether partners are looking for a secluded honeymoon getaway or a lively night out with a bunch of people, they will enjoy the best honeymoon in the Philippines at these 10 romantic resorts that match their personality.
10
San Rafael River Adventure, Bulacan
For people looking for honeymoon destinations on a budget, the San Rafael River Adventure in Bulacan is the place to visit. It is a Bali-like resort located an hour away from the capital and features several accommodations. Each room comes with its intimate bubble pool, and couples can choose to wake up right next to the river, in the middle of dense greenery, or even up in the trees. Partners appreciate activities at the resort, including swimming in the infinity pool, paddle boarding, kayaking, and horseback riding. For a romantic lunch, they book a river cruise along the Angat River or enjoy the fresh air and river views while savoring a Filipino lunch.
Accommodation:
San Rafael River Adventure

Address:
Brgy. Talacsan, San Rafael, Bulacan, Philippines, San Rafael, Luzon 3008 Philippines

Amenities:
Free parking, free breakfast, pool, bicycle rental, children Activities (Kid / Family Friendly), room service
9
Okada Manila, Manila
Okada Manila is a 5-star hotel in the Philippines where couples involve in a lot of activities and nightlife during their honeymoon. Apart from its giant casino, the resort hotel also has traditional entertainment displays at the Coral Lounge, a nightclub called Cove Manila, a Retreat Spa, and many dining outlets. After having explored the extensive resort and its different facilities, couples can chill in their Executive Suite, which comes with dining and living rooms, a personal massage room, and a jet tub.
Related: These Are The Most Affordable Resorts To Book In Manila, Philippines
8
Las Casas Filipinas de Acuzar, Bataan
Those wanting to experience the romance of the ancient world can find it in Bataan at one of the unique hotels and resorts in the Philippines. People find a collection of renovated Spanish-Filipino houses that will transport them back in time. To get the full experience, couples can book a legacy tour or walk along the roads with a professional guide as they learn about the story of each building and how it associates with the history of the Philippines.
7
The Farm At San Benito, Batangas
The Farm at San Benito resort in Batangas is ideal for health-conscious couples. At this wellness resort, partners book the Master Villa for the top private experience. It contains its own swimming pool, an outdoor terrace, and a garden that offers views of the Malarayat mountain. For people looking for an easy retreat, the Sulu Terraces suit them better. The rustic lodgings are modeled after classic Philippine rice barns and come with their sitting and outdoor area. But the highlights of a stay at The Farm are the multiple health and beauty programs that help address fertility issues using medical tests, nutrition, emotional support, and hormone therapy.
6
Amorita Resort, Bohol
Amorita Resort is famous for being one of the finest luxury resorts in the Philippines, making it a great resort to spend a honeymoon. Located on a limestone cliff in Bohol's Panglao Island, the resort manages to give guests privacy and accessibility. They can stay at the resort during their whole stay, as all the rooms and suites in Amorita provide the pampering they need. For an even more intimate stay, they can book the Pool Villa, which comes with its patio and plunge pool.
Accommodation:
Amorita Resort

Address:
1 Ester A. Lim Drive, Panglao

Amenities:
Water sports facilities, snorkeling, beachfront, outdoor pool, spa and wellness center, fitness center, restaurant, bar/Lounge, room service, bicycle rental
5
Fundacion Pacita, Batanes
Fundacion Pacita is one of the most serene honeymoon destinations the Philippines has to offer in Batanes. Once residence to artist Pacita Abad, the property has been welcoming couples who want to spend their honeymoon in a tranquil location atop Basco's hills. With no TVs or Wi-Fi, couples can concentrate on each other's company while enjoying the stunning surroundings. Most of the accommodations offer beautiful views, but the Sumla 2 room comes with a private balcony overlooking spectacular sceneries of the hills and the sea.
4
Two Seasons Coron Island Resort & Spa, Coron
Two Seasons Coron Island Resort & Spa is perfect for couples dreaming of spending their honeymoon in Palawan, Philippines. This eco-friendly resort is a turtle and big clam refuge and is home to a sandbar, a house reef, and two beaches. Couples relax at Narra Spa or experience an adrenaline rush while wakeboarding or water-skiing. For a special experience, they hop on one of the resort's transparent kayaks that allows them to see the marine life underneath them.
Accommodation:
Two Seasons Coron Island Resort & Spa

Address:
Malaroyroy, Bulalacao Island, Coron 5316

Amenities:
Private beach, water sport facilities, snorkeling, outdoor pool, spa and wellness center, fitness center, restaurant, bar/Lounge, room service, free Wi-Fi
3
Nay Palad Hideaway, Siargao
Nay Palad Hideaway presents couples with a peaceful and private retreat. Located on the famous island of Siargao, the resort is sandwiched between the Pacific Ocean and an ancient mangrove forest. Some villas come with an aromatherapy diffuser and essential oils, an outdoor terrace, and a mini-bar, where couples spend time chilling while taking in nature. Partners can enjoy the infinity pool, which brags an ocean view during the day and transforms into an outdoor cinema during movie nights or indulge in the resort's luxurious spa treatments.
Accommodation:
Nay Palad Hideaway

Address:
Malinao, General Luna 8419

Amenities:
Private beach, water sports facilities, snorkeling, outdoor pool, spa and wellness center, fitness center, restaurant, bar/Lounge, room service, free Wi-Fi
2
The Manor At Camp John Hay, Baguio
People can make their honeymoon in the City of Pines more romantic by reserving a stay at The Manor. Its old-world appeal will make them fall in love again, while its location gives them more reason to get closer to each other. The 1-Bedroom Suite has a balcony, independent living and dining areas, a mini-bar, and views of the garden or the forest. During the daytime, couples explore Camp John Hay and visit its butterfly haven, go horseback riding, have a game of golf, or indulge in spa treatments.
Related: 10 Reasons To Book A Flight To The Philippines This Summer
1
Discovery Shores, Boracay
For a peaceful honeymoon in Boracay, people stay at Discovery Shores. The resort's site in the tranquil area of Station 1 gives guests both a secret retreat and access to the island's dining and leisure facilities. The resort is also renowned for its service, and whether people are lounging at the gorgeous white-sand beach or swimming at the pool, they expect the staff to be ready to attend to all their needs. All the suites in Discovery Shores will allow couples to have a cozy and pampered honeymoon.