Ah, the Caribbean — a picture-perfect, palm-tree-peppered, paradisiacal postcard place plush with powdery beaches, picturesque rainforests, and an impossibly blue ocean. Think "perfection" in the travel context, and, in all probability, plenty of people ponder these pretty paradise islands that have planted themselves amidst the warm, glistening Caribbean Sea.
With luxury beach resorts, low-key secret hideaways, vibrant culture, captivating cuisine, rich history, abounding outdoor recreation, and sensationally sunny weather year-round, it doesn't take much to realize why the tantalizing tropics in the Caribbean are among the world's best vacation destinations. Plus, the beauty extends even beyond the shores; below the turquoise waters' surface, a kaleidoscopic extraterrestrial realm beckons exploration, with many of the world's best scuba diving sites (and even some of the top snorkeling areas on earth) calling the Caribbean "home."
Related: Want to Learn to Scuba Dive? Here Are The Best Places For Beginners To Take The Plunge
Sure, this part of the world has always reigned supreme on discerning travelers' radars; the islands in this sublime portion of the planet are the epitome of heavenly and are as accessible as they are stunning, after all. However, at the advent of 2023, things are about to get really hot in the Caribbean (not just literally). Several of this region's most frequented vacation nations are set to soar to the top of travelers' must-visit itineraries over the next year —and it's not solely down to the pristine beaches, blissful resorts, and cracking good weather; it's thanks to the islands' latest and greatest offerings piquing globetrotters' excitement.
From new restaurants in St. Lucia, brand-new villas in Turks and Caicos, milestone anniversaries in Antigua, and dazzling getaways in Barbados — and more — the following list of unmissable happenings new and old in the Caribbean proves that this holiday heaven offers every type of tourist something special to satiate their wanderlust cravings. Whether aspiring holidaymakers yearn for a relaxing spa retreat, a lazy beach vacay, an action-packed recreational adventure in the tropics (from hiking to boating and diving), or a sampling of the eventful, fascinating Caribbean history and culture, this robust roster of the latest gifts this region has to offer its welcomed guests has something for everyone.
Related: Are These Underrated Caribbean Destinations Worth Visiting?
10/10

Antigua

Best known for gorgeous white-sand beaches, sailing, irresistible culinary delicacies, the eighteenth-century Nelson's Dockyard, and the largest nesting colony of frigate birds in the entire Caribbean, Antigua promises an exquisite escape for travelers seeking to get away from the hustle and bustle of modern life. Counting itself among the many noteworthy accommodations in Antiqua, Curtain Bluff — nestled amid palm trees on a rocky outcrop between two secluded coves — is an iconic hotel on the island that remains a fan favorite.

With top-notch, state-of-the-art facilities, such as luxury spa amenities, two restaurants, and private pools, this beautifully situated home away from home in heaven caters to stressed-out folks who simply need nothing more than to get away from the world. Indeed, the stunning 72 luxurious bedrooms with ocean views and old-school glamour decor aesthetically blended with understated contemporary chic complete the picture of perfection. Furthermore, guests have access to an exciting variety of activities included in the room rate, from tennis on the property's four championship courts and wicked watersports — such as waterskiing, windsurfing, and paddle-boating — to snorkeling and scuba diving on the reef and riding across the bay on a Hobie Cat; there's recreation for everyone at Curtain Bluff.
Hot & Happening In Antigua In 2023:
In spring 2023, Curtain Bluff will host two Health & Wellness Weeks (April 15-22 and April 22-26, 2023), when guests have the opportunity to partake in daily intimate group classes, such as Vinyasa Flow yoga practice, tennis lessons with in-house pros catered to all levels, pilates, and daily spa treatments from an exclusive themed Health & Wellness Week menu. Weekly enticements will also be available; with sunset meditation, aqua aerobics, a fitness walk through Old Road Village, and hikes to Boggy Peak (Mount Obama), Wallings Dam Nature Reserve, and Tobacco Bay led by in-house practitioners, spring is sure to be an event-filled period specially designed for wellness enthusiasts.
Related:11 Unique Things To Do In Antigua And Barbuda
9/10

Bahamas

Boasting bounties of some of the best beaches in the Caribbean (though not actually in the Caribbean, technically), The Bahamas is one of the most famous tropical havens the world has ever known — tempting travelers from all corners of the globe to experience its superb shores, adventurous activities (hello boating and sailing!), interesting historical attractions, and numerous islands ranging from tranquil and crowd-free to bustling hubs brimming with culture and events.

In between touring the Bahamas, swimming with the Exuma pigs, diving at Tiger Beach — one of the best shark dive sites in the world — and beach bumming all day, visitors will need a serene base at which to stay. Where better to hit the hay and put head to lay than a secretive dot on the Bahamian map away from the masses? The Cove Eleuthera is that secret spot; this calm and collected oasis is an exclusive retreat set on 40 acres on the northern end of the island of Eleuthera — facing the Caribbean. A quick 45-minute flight from South Florida sees travelers arrive at the ethereal and newly renovated resort, which offers stylish seaside villas and suites and lavishly appointed accommodations.

On-site, the elegant property also provides its esteemed guests with all the outstanding amenities discerning tourists would expect from a formidable paradise; the recently transformed Free Restaurant complete with sushi bar, the open-air Point Bar, two private beaches, a freshly refurbished fitness center with wellness experiences, an infinity pool, and an array of recreational amenities including kayaking, paddle boarding, and snorkeling will make this unreal place exceptionally difficult to leave when it's time to go home.

What's more, the Bahamas boasts yet another enchanting resort that's making waves already before 2023 has even begun. The Ocean Club, A Four Seasons Resort, has served tourists as one of the best resorts in the Bahamas for six long decades. With 2022 marking the famed establishment's sixtieth anniversary, there's no better time to choose this fine spot for the ultimate upscale Bahamian escapade. Since first opening its doors in 1962, the 35-acre resort has accumulated an impressive, rich history and a legendary legacy, earning a far-reaching reputation that precedes itself. The high-end hotel even attracted Hollywood's attention, with the property stepping in as the backdrop for the 2006 remake of 007 Casino Royale.

Many an extravagant party and over-the-top wedding have taken place at the resort and its otherworldly Versailles Gardens, too — a place instantly recognizable and plastered across all the postcards and Bahamian glossy magazine appearances. The estate's celebrity doesn't feign even today; in 2023, guests from all around the world are invited to celebrate the Ocean Club's storied past and embrace its anticipated future through highly anticipated celebrations — as well as witness the renovation and enhancement inaugurations throughout the building and its beautiful grounds.
Hot & Happening In The Bahamas In 2023: The Ocean Club
In 2023, the Ocean Club will celebrate the unveiling of the highly anticipated, brand-new Crescent Wing after months of renovations. Additionally, the splendid estate will host a three-day weekend celebration in honor of its sixtieth anniversary. Guests lucky enough to stay during this event-packed time can also enjoy celebrations and special experiences commemorating the resort's anniversary, including the 007 Secret Menu experience nodding to the seven James Bond movies released in the 1960s — not forgetting the resort's appearance in the 007 epic remake of Casino Royale.
Related: Bask In The Sun And So Much More: The Ultimate Travel Guide To Nassau, Bahamas
8/10

Barbados

Does paradise get any more mesmeric than the pint-sized paradisiac pocket of Barbados? Of course not! As one of the best Caribbean islands ranked by beaches, this tiny nation makes up for its lacking size with its supreme sandy shores and impeccable azure sea. Moreover, intending tourists mustn't let this little island lull them into a false sense of "there's nothing going on here" — for that couldn't be further from the truth. Granted, this minute-sized country is small, but it presents big gifts to its welcomed visitors, including delicious Bajan dishes being one of the main reasons to visit Barbados.

Aside from the culinary experiences, a beautiful coastline dotted with palm trees, and breathtaking beaches, Barbados's exquisite hotels and resorts suited to all budgets are a major draw, enchanting tourists time and time again to return to the island for repeat retreats (although the country's upmarket sanctuaries are indeed truly incredible). One such wonderful accommodation seemingly calling the shots in 2023 is Coral Reef Club & The Sandpiper. Set in the midst of 12 acres of lush, landscaped tropical gardens, Coral Reef Club has always been an unbeaten contender; the popular property is one of the Caribbean's most sought-after hotels — and a family-owned and managed one at that, having been operated by the O'Hara family since 1952. Loved for and characterized by its classic Caribbean charm and island-inspired décor, the historic hotel is still deemed one of the best in Barbados —one that's celebrating seventy long years in the hospitality and hotel sector on this teeny tiny island.
Hot & Happening In Barbados In 2023
Everyone's buzzing about Coral Reef Club and The Goring's launch of their new surf and turf package, enabling travelers to waltz through the streets of London and the sandy shores of Barbados in one exceptional trip and one-of-a-kind experience. On this utterly unique, first-of-its-kind adventure, the journey jets off with a night of sumptuous splendor at The Goring Hotel in London, where valued guests are lulled into the laid-back Caribbean lifestyle with a fiery O'Hara Rum Punch — a salivatingly tasty and refreshing signature beverage served in the peaceful Goring garden or lively cocktail bar. Then, after a restful night's sleep, guests can indulge in a hearty breakfast before a leisurely venture to Heathrow airport's T5 for the next part of their trip: the flight across the pond to breathtaking Barbados. Once the cozy flight is over, guests arrive at their new home for their holiday in paradise: Coral Reef Club. Embraced with open arms by glorious Barbados sunshine and a special Jubilee welcome cocktail, there's no greater way to start a Barbadian vacation.
.
Related:9 Best Instagrammable Things To Do In Barbados
7/10

Bequia

The second-largest island in the Grenadines (though still only seven square miles in size), Bequia forms part of the Caribbean country of Saint Vincent and the Grenadines. Mother Nature plopped this little island a mere 15 kilometers from the nation's capital Kingstown — which finds itself on the main island of Saint Vincent. Meaning "island of the clouds" in the ancient Arawak language, Bequia is fondly known as the Caribbean's best-kept secret and attracts worldwide visitors thanks to its computer desktop wallpaper-worthy beaches — many of which are beautifully deserted and merge into idyllic coves. These said coves and sandy stretches are particularly renowned for scuba diving, snorkeling, and kayaking, resonating with tourists who relish the peace and tranquility of crowd-free beaches combined with the awe of in-water exploration.

On dry land, the island's characterful little villages and diverse restaurants and bars await and are the perfect way to round off a day spent washing those stresses away at the beach, gliding over the glassy water on a kayak, and floating over rainbow-hued reefs. How could a small, quiet faraway island off the beaten track get any more serene? Perhaps the beaches' and bays' dramatic backdrops answer that question; luscious, verdant forests coating the island's undulating hilly center make for jaw-dropping vistas and photography envy as people paddle in the warm, inviting crystalline waters and lay on the flour-soft, clean white sandy shores.
Hot & Happening In Bequia In 2023
Bequia-bound travelers have numerous places to stay on this island — known for its barefoot-luxe vibe. Still, in 2023, the Bequia Beach Hotel is on the cards and is expected to command a lot of attention among travelers with a penchant for life's finer things. This delightful hotel will provide brand-new offerings in the coming year, including a third ultra-luxe villa in January, a new twin center partnership with Soho Beach House Canouan, and a new local experiences program.
Related: Everything You Need To Know About Royal Caribbean's Ultimate World Cruise
6/10

British Virgin Islands

The British Virgin Islands (or BVI if that's too much of a mouthful) is a British Overseas Territory and is placed in a very unique part of the Caribbean; composed of four main islands (and a number of smaller ones) the BVI's lovely location makes it a bubbling volcanic archipelago, opening up the magnificent natural richness and abundant wildlife — above and below the waves. In fact, out of their virtually countless spots of ecological magnificence, these islands are celebrated for their reef-lined beaches, where visitors can get lost in a bright underwater planet pulsating with life as they enjoy world-class snorkeling and scuba diving.

Additionally, The British Virgin Islands are equally known as one of the world's top yachting destinations — a paradise focal point to which seasoned sailors and yacht owners venture year-round. The BVI's list of natural and recreational wonders doesn't stop there, either; outdoorsy folks will especially find fun on the country's largest island, Tortola, where the capital of Road Town is found — but also Sage Mountain National Park with its evergreen tropical rainforests overflowing with environmental treasures, species diversity, and nature photo-ops at every angle.
Hot & Happening In The British Virgin Islands In 2023
As its plural name hints, the British Virgin Islands offer numerous choices regarding where to stay. One particular island gaining traction for 2023 is Moskito Island — a spectacular spot under the sun where guests get to savor a fully all-inclusive, customized vacation suited to their specific needs (the island also offers four grand estates, each available for an exclusive buyout — perhaps to tempt those finding it really hard to go home come to the end of their fantastical retreat).
Highly rated for its gift to travelers — a uniquely tailored getaway in pure paradise — the island's experienced staff know high-end hospitality like the back of their hands, catering will each guest's every desire. These expert teams make visitors' stay truly something to remember, arranging everything from picnics on the island's pristine Manchioneel Beach and themed dinners with live jazz bands to organizing beach Olympics — and more. Indeed, it seems nothing is ever too much for these keen-to-please service people. Plus, with crystal clear waters for which the British Virgin Islands are famed, Moskito Island offers aquatic escapades and land adventures, too — which, of course, hotel staff is happy to help with if guests need excursion bookings or advice from friendly local residents.
Like most hypnotizing Caribbean destinations, the British Virgin Islands house a wealth of wonderful accommodations. On the list of the country's latest hospitable addition is The Village Estate. Its grand debut in October 2022 makes this the newest estate on the island — and one to try out if seeking something fresh and different. Perched atop Moskito Island's imposing cliffs, the nine-bedroom estate is setting the standard for grand designs in the British Virgin Islands; the property's enormous, multi-level infinity pool with impossible views of the islands rank this accommodation one of the most innovative design-wise and impressive to visit in 2023. The spectacular visuals don't stop there, though; the LED-lit staircase with beating lights connected to playing music, the grotto under the estate, and a cantilevered glass-bottom hot tub extended over the dramatic cliff's edge are also set to turn heads and soothe souls over the next year.
Related: What To Know About The Baths At The British Virgin Islands
5/10

Dominican Republic

The Dominican Republic is one of the lowest-cost Caribbean islands to visit — but that's not the only bonus bringing globetrotters to discover this island's plentiful renowned (and hidden) treasures. The country is infused with vibrant history and culture and entails delicious cuisine with Spanish and Caribbean influences, which, given its past, explains why the capital Santo Domingo is home to many Spanish landmarks, such as the famous Gothic Catedral Primada de America in the city's Zona Colonial district, which dates back five whole centuries. Still, while many tourists opt to stay in the island's energetic capital chock-a-block full of attractions, charm, and cultural appeal, most head to the ravishing beach resort region of Punta Cana, with many of the best ways to reach Punta Cana from Santo Domingo making the journey easy and affordable.

What the country is known for more than its amazing historical attractions, flamboyantly cultural capital, and fabulous food are three shining jewels that always remain polished and spick and span for discerning tourists: sublime beaches, stunning resorts (with many of the best all-inclusive resorts in the Dominican Republic being super affordable), and, not least, world-class golfing. For the David Attenboroughs of the world, the nation's natural attractions are pretty compelling, too, with terrains comprising rainforests, savannah, and highlands — not to mention the tallest mountain in the Caribbean: the mighty Pico Duarte.
Hot & Happening In The Dominican Republic In 2023
As the new year approaches, everyone's chatting about Eden Roc Cap Cana — a Relais & Châteaux diamond perfectly situated in the exclusive community of Cap Cana. The property has earned quite the reputation for creating unique, unordinary experiences and granting travelers' wishes with a mega-luxurious boutique island experience. Think private ecotourism safaris, helicopter excursions to the country's isolated islands, humpback whale encounters, four-course dinners in a hidden cave, and fully personalized wellness experiences, and that's a mere sample of the fine offerings this opulent retreat provides to its guests.
If that doesn't sound unreal enough, 2023's guests will also be among the very first to stay in the property's newest Ocean & Golf Villa, which comes with a complete kitchen, spacious living and dining spaces, and five bedrooms with king and double beds. The 24-hour butler and private chef — who serves a tasty breakfast every day — and the three golf carts on hand for the five-minute drive to the course or the three-minute ride to the beach club sweeten the deal even more.
Related: Stay At This Beachfront Luxury Punta Cana All-Inclusive Resort
4/10

Jamaica

Imagine "the Caribbean," and what first springs to mind? Is it Jamaica? It is, isn't it? Of course, that's because this laid-back nation is the embodiment of everything for which this region of the world is known: perfect beaches, idyllic climate, fun culture, delicious grub, and a blasé, relaxed lifestyle. Also famed as the birthplace of reggae, Bob Marley, Blue Mountain coffee, Red Stripe beer, Jamaican rum, jerk dishes, luxurious all-inclusive resorts, cascading waterfalls (not forgetting the renowned Green Grotto Caves), Jamaica has always been a favorited tourist magnet and the main character in the spectacle that is the ultimate Caribbean holiday. The fact that this country is also among the most affordable Caribbean islands solidifies its place on budget tourists' and backpackers' maps, simultaneously opening its doors to the wealthiest vacationists and those on a budget. Jamaica doesn't discriminate between purses — fortunately, it caters to all.

In the coming year, Jamaica Inn will have plenty of presents for people who choose the property as their perfect paradisiacal place. Located just east of Ocho Rios within a secluded, sandy cove, the hotel has remained a tourist favorite and a popular family-owned luxury retreat. The proprietors of Jamaica Inn, the Morrow family, have owned the hotel for almost 65 years and, in that time, have mastered the art of merging discreet privacy with heartfelt personalized service, offering a luxurious experience catering to guests' every need and desire without being intrusive — the best of both when it comes to a high-end holiday. Spread over eight beautiful acres with a 700-foot private white-sand beach — considered to be one of the best beaches in the Caribbean — the only element more serene than the genuine, personal service is the hotel's alluring grounds.
Hot & Happening In Jamaica In 2023
The hotel just launched its Travel With Friends experience to cater to amigo groups in need of a spa break and an opportunity to see Jamaica. Not only has the establishment bolstered its group offerings, but it also unveiled its Farm to Skin Foraging experience at The Ocean Spa — the first of its kind in the Caribbean. Last but not least, the hotel also offers the Tropical Trio Experience in which guests can select three off-property activities to explore the island.
Related: Spend An Iconic Vacation Without Breaking The Bank At These 10 Affordable All-Inclusive Jamaica Resorts
3/10

St. Lucia

In the Eastern Caribbean, Saint Lucia is particularly famed for its illustrious tapered mountains on the west coast known as the Pitons. On top of these natural wonders, the island nation also boasts beautiful volcanic beaches, a plethora of reef-diving sites for snorkeling and scuba diving, charming fishing villages, and rainforest trails leading to waterfalls — one of its most famous being Toraille, which pours over a majestic cliff into a scenic garden. As one of the Caribbean's top islands for tourists seeking an upmarket beach vacation, the country unsurprisingly offers lots of luxury resorts, too — raising the question, how on earth does a traveler choose where to stay in Saint Lucia?

One extra-special answer to that burning issue is this: Sugar Beach, a Viceroy Resort. Set within over 100 lush acres of untouched tropical rainforest and hugging the iconic UNESCO World Heritage-listed Val des Pitons, this is one jaw-dropping, remarkable resort. With paralyzing views of the Caribbean Sea and the Pitons and oozing eighteenth-century historic charm for which Saint Lucia is famed, the vistas to soak up in the property's surrounding atmosphere are second to none. Built on the site of an old sugar plantation, the resort also provides a handful of different luxury accommodations, including rooms, cottages, bungalows, and villas — each with a private plunge pool.
Hot & Happening In Saint Lucia In 2023
Guests in 2023 can be the first to experience the resort's brand-new and exclusive full-body treatment: Rainforest Renewal Ritual, which is provided in partnership with Tata Harper; the property's Rainforest Spa is the one and only spa in St. Lucia teaming up with the established brand. What's more, the resort's most recent expansive renovation included the debut of the spa's new reception area alongside a treatment room for couples that provides a fresh contemporary therapeutic experience with floor-to-ceiling windows — a sublime space overlooking an outdoor lounge deck and the awe-inspiring rainforest.
Also, new for 2023, the property's Bayside Restaurant will be rebranded as Bonté (meaning "good feeling") and will serve lunch and dinner. Decadent dishes to tempt and tease the tongue include Shrimp Tacos, Tuna Poke Bowls, and Jerk Spiced Chicken Wings. Additionally, the resort's upmarket restaurant — The Great Room — will undergo transformation into Saltwood, offering an exquisite fine dining experience and opulent meal options, such as sea bass tarter, wagyu steak, Dover sole, fine mango tart, and baked Alaska.
Launching in January 2023, the resort will also open the doors to its refreshed, family-friendly programming and amenities menu. The V Team Kids Club is on par with becoming a major player for the property's littlest holidaymakers, who get to have a ton of fun with imaginative, curious, and creative activities to feed and fuel the mind. From arts and crafts and yoga to photography classes, cooking lessons, and music, kids can enjoy immersion, entertainment, and skill-building at the resort's fantastic club for young travelers. Among all the incredible things to do in Saint Lucia, checking out this resort's freshest deliveries for guests of all ages is certainly on the to-do list in 2023.
Related: 8 Best Places To Stay In St. Lucia
2/10

Turks & Caicos

Worshiped for endless, soft, white powdery beaches and shimmering turquoise oceans, Turks and Caicos is a sun chasers sphere and delivers some of the top beaches in the Caribbean. The archipelago of 40 low-lying coral islands is a British Overseas Territory just southeast of the Bahamas; as such, it's in a prime location for excellent weather and tropical activities ranging from relaxing to heart-pumping. Unastonishingly, snorkeling is an amazing pastime in these parts, as reefs surround the phenomenal island — but what makes sub-sea exploration here all the merrier comes down to the reefs' placement and topography. The islands' reefs break up big waves and currents, blocking their path so that only gentle, lapping waves reach the shore while currents are kept at a minimum. The result? Calm, transparent water is perfect for effortless marine critter-spotting — plus swimming and snorkeling for beginners, too.

With all that lazing under the sun and exploring colorful reefs comes the need for a nap (or rather, somewhere chillaxing and comfortable to lay those weary heads). Naturally, a stunning Caribbean island like Turks and Caicos, with its abundance of beautiful places, is bound to have ample accommodations molded to embody the essence of paradise — boy, does this gem deliver in that department. The Shore Club, in particular, comes highly recommended and is the first and only development on Long Bay Beach. Adorned with Caribbean atmospheric charm, the property captures the natural beauty of this part of the planet and injects it throughout its decorative grounds. Guests also have large suites with uninterrupted ocean views, four expansive pool areas, the nature-inspired Dune Spa, and four dining venues with global influences — not forgetting the five bars, either. Additionally, the property boasts six multi-bedroom, large luxury villas — some of the most desired in the Caribbean, in fact.

Yet again, there's more to come in terms of unique accommodation in Turks and Caicos. Located on the award-winning Grace Bay beach, The Palms is the perfect retreat for slipping away into paradise and escaping reality for a while. The property's open-air design and a parade of water activities facilitate a natural connection to the island, helping guests get back to nature and build a relationship with the pristine environment in which they'll find themselves completely immersed during their sabbatical from everyday life back home. Throughout their one-of-a-kind, premier stays in Provo, guests can also relish an infinity pool with beach views, several locally-inspired restaurants, and the reputed 25,000 square-foot Spa at the Palms, which boasts its very own dreamy water features and exclusive treatments.
Hot & Happening In Turks & Caicos In 2023
The Hartling Resorts, which owns and operates acclaimed Turks and Caicos properties — The Sands, The Palms, and The Shore Club, among them — is undertaking a significant role in the expansion of luxury on Providenciales. The developer of award-winning properties has seen incredible levels of success with The Shore Club's current six six-bedroom villas — that's why eight additional six-bedroom villas with two pools and private gyms will be added soon, with building commencing in 2023.
Related: 10 Most Popular Beaches In Turks And Caicos For Your Next Sun-Soaked Getaway
1/10

Grenada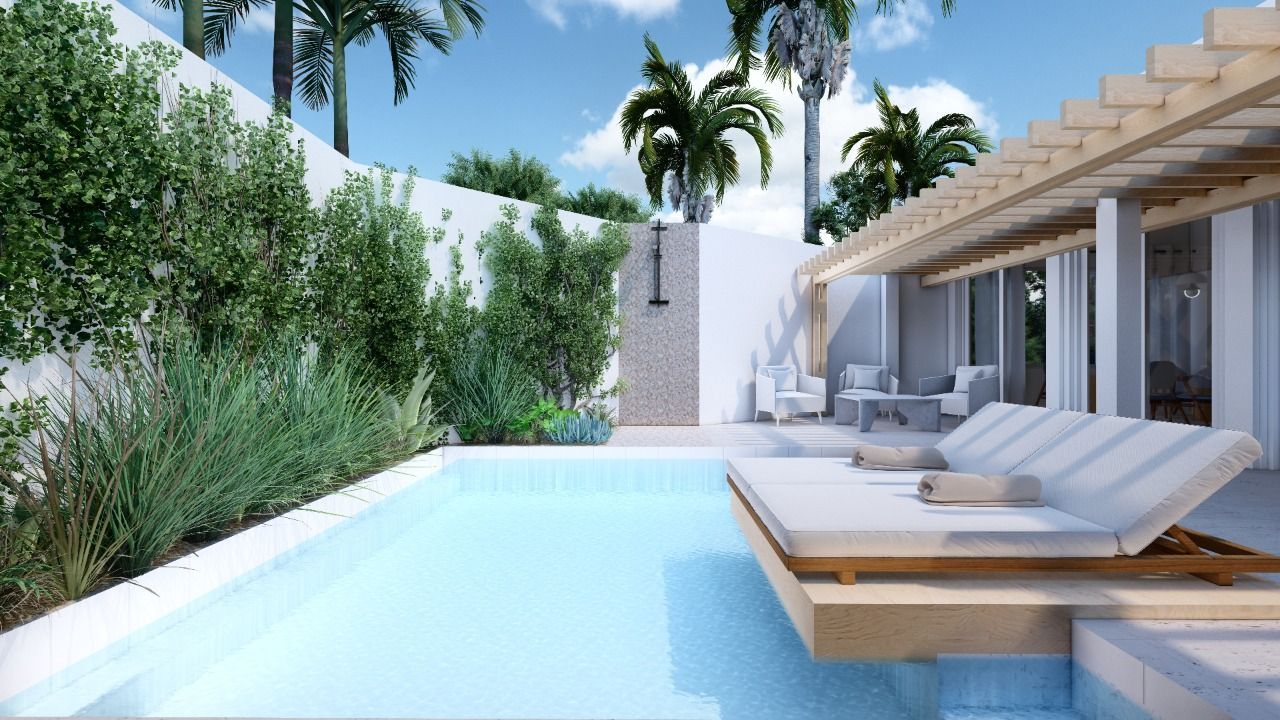 The cabalash hotel's new penthouse suite with a priviate pool, sun loungers, and lush gardens against a palm tree backdrop
Grenada's quaint local towns and picturesque beaches never fail to enchant travelers who prefer the carefree Caribbean lifestyle. Famed for its impeccable shores, this small country comprising its main island and several smaller surrounding islands attracts the world's biggest beach bums. Its most popular beach, Grande Anse, showcases two miles of pure white sand and beaming turquoise waters, along with lovely shaded areas for respite from the hot sun, as well as numerous restaurants, bars, and memorable activities, in addition to plenty more Grenadian experiences located just a stone's throw away.
Though nightlife can be found in Grenada — famously known as "Spice Island" — this little piece of paradise is all about the tranquility and slow pace of life that brings global jet-setters to the Caribbean in the first place. Naturally, with such a calm reputation with blissful beaches come samples of serene places to stay, with the lovely seaside Calabash Luxury Boutique Hotel being one of them. Nestled by the ocean and complemented by crystal waters and a refreshing saltwater breeze, this property, famed for its unrivaled hospitality, is the pinnacle of boutique luxury in this region of the world.
Hot & Happening In Grenada In 2023
The Cabalash Hotel has undertaken a superb renovation of its two-bedroom Penthouse suite, incorporating luxurious modernity while staying true to the signature Calabash style. The property's Penthouse suite is upstairs; meanwhile, the Deluxe Suite is downstairs. Both connect via an internal spiral staircase to create the two-bedroom Penthouse Suite; however, they're versatile since they're also bookable as individual suites. The new design is more modern and luxurious while still staying true to the Calabash style.
Last but not least, the hotel's new restaurant will open around the main pool area — befittingly named The Pool Bar. The menu will specialize in smaller dishes, fresh sushi, salads, and craft cocktails — perfect for sipping by the pool or on a sun lounger. Oh, such bliss!