Get the most out of your budget with an affordable all-inclusive vacation to the beautiful city of Puerto Vallarta in Mexico.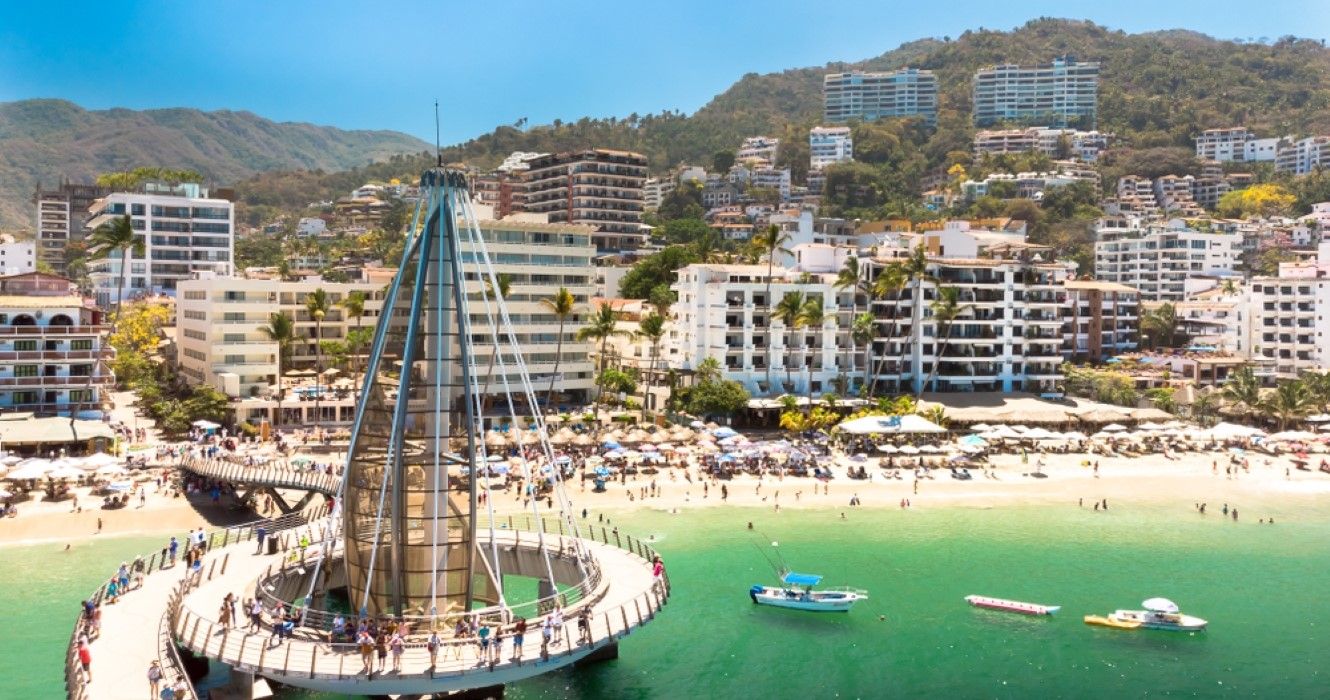 Malecon Playa los Muertos, Puerto Vallarta, Mexico
Puerto Vallarta is a stunning beach destination on Mexico's Pacific Coast. Located in the state of Jalisco, this is the place to be for tequila and mezcal enthusiasts. Families, couples, or solo travelers looking for all-inclusive resorts and beautiful beaches on a budget, without the five-star accommodation price tag, will love these options. However, it's worth noting that many of these hotels also allow guests to book accommodation by night and eat out to enjoy the local cuisine in Puerto Vallarta instead. Be sure to research the cost of all-inclusive versus booking by night and eating local cuisine instead to get the most out of your budget.
10/10

Flamingo Vallarta Hotel & Marina

This charming hotel is located in Marina Vallarta and offers guests scenic ocean views and comfortable rooms. The hotel has a restaurant on-site, plus outdoor swimming pools and a bar. Guests will absolutely want to book all-inclusive here because this hotel is not close enough to downtown Puerto Vallarta to make the most of the local restaurants and street food stalls.

Related: Puerto Vallarta Has More To Offer Than Just The Nightlife
9/10

Villa Del Palmar Beach Resort & Spa

This gorgeous hotel has it all, from beachfront seating to an outdoor pool and a spa. Guests can enjoy the tennis court, dine at the restaurant, have a drink at the bar, or order room service. The resort is in Zona Hotelera (the Hotel Zone), so guests will want to take advantage of the on-site food in an all-inclusive package rather than trying to travel to restaurants in the downtown core of Puerto Vallarta for each meal.
8/10

Playa Los Arcos Hotel Beach Resort & Spa

This hotel is located in Zona Romantica, one of Puerto Vallarta's most vibrant and historic neighborhoods. Guests staying at Playa Los Arcos Hotel can opt for all-inclusive, but they can also simply pay by the night and take advantage of the fantastic gastronomy scene in Zona Romantica.
7/10

Las Palmas By The Sea

This lovely resort has everything travelers need for a comfortable vacation by the ocean. The hotel has private beachfront, outdoor swimming areas, and a restaurant on-site. It's located in the Hotel Zone, so the downtown core of Puerto Vallarta is accessible by car in approximately 15 minutes.
6/10

Hacienda Buenaventura Hotel

Travelers who want the comfort of an all-inclusive resort without modern sterility will appreciate the rustic Mexican charm of the Hacienda Buenaventura Hotel. This accommodation option is located in the Zona Hotelera and boasts classic architecture, a lovely outdoor patio, a spa, a restaurant, and loungers on a private section of the beach.

Related: Things To Do In Puerto Vallarta, Depending On The Month You Visit
5/10

Casa Dona Susana

Couples looking for a romantic getaway will appreciate the privacy and comfort of this adults-only all-inclusive resort. Located in Zona Romantica, guests at Casa Dona Susana get access to prime beachfront loungers and a gorgeous outdoor swimming pool with views of the ocean. The hotel's architecture has classic Mexican charm. Because of the prime location of the hotel, couples can also opt to pay for the nightly accommodation and not an all-inclusive plan, allowing them to dine out at the many wonderful local restaurants in Zona Romantica.
4/10

Plaza Pelicanos Club Beach Resort

This resort is located in Zona Hotelera and is a great option for travelers who want the comfort and convenience of an all-inclusive vacation by the Pacific Ocean. The hotel has beachfront loungers, an outdoor pool with a view of the ocean, and a spa. There's a snack bar, restaurant, and a kids' club, so it's fun for the whole family. There is tennis, table tennis, horseback riding, bicycle rental, and other activities available through the hotel.
3/10

Friendly Vallarta

Also located in the Hotel Zone, this all-inclusive resort is a great place to relax by the ocean and make use of the many amenities. When guests aren't soaking in a hot tub or swimming in the infinity pool, they can make use of the tennis court or watersports facilities on-site.
2/10

Costa Club Punta Arena

The Costa Club Punta Arena is a comfortable all-inclusive resort for travelers on a modest budget who want to make use of amenities. It's located in the Hotel Zone and offers free toiletries to guests. Get a massage at the spa, relax by the beach, or swim at the outdoor pool. Evening entertainment includes karaoke and board games.
1/10

Canto Del Sol Plaza Vallarta

This resort in the Hotel Zone is a family-friendly destination with child care, a kids' pool, and a kid-friendly buffet on-site. Guests can enjoy karaoke, cooking classes, table tennis, and more fun activities without leaving the resort grounds. There is a restaurant on-site, a bar, a minibar, and a snack bar.